Sundays are my usual day for menu planning and grocery shopping. Yesterday, as I was planning out our meals for the week, I decided that I really wanted to plan meals that we can look forward to enjoying together. I know it sounds really obvious, but I'm thinking about food a little bit differently. I eat a lot. Most of what I eat is junk or not something I really love. It's there so I eat it. I'm trying to cut out excess munching, grazing and snacking. Having good meals to look forward to can help with this. At least I think and hope it will.
Tonight we had simple comfort food, but it was yummy. Chicken noodle soup, honey bran muffins and broccoli with cheese.  It's probably not something that everyone would enjoy, but we liked it and there was enough for lunch for Nathan for tomorrow!
Note the Christmas table cloth. I thought it added a nice touch 🙂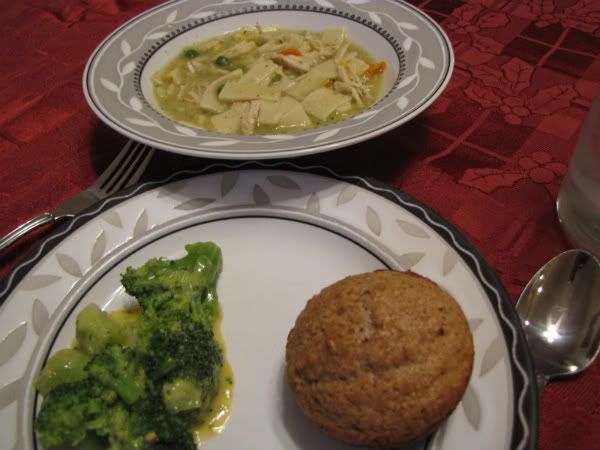 We're adjusting to the return to standard time. Today was harder than yesterday. Isaac was a little more difficult. Everyone is a little tired. I hope everyone perks up for Nathan's birthday tomorrow.