I have no idea why this recipe is called "Fudge Nut Bars" when there aren't any nuts in it, but I'm happy with it. I'm not a fan of nuts in baked goods.
*Additional disclaimer*- This is a recipe my mother wrote out for me. One of the roommates I lived with after college had the same recipe from her aunt Shirley and she called them "Shirley's Fudge Bars" or something like that. The only thing I'm positive about is that she used the word "Shirley" in the title of the recipe. My mom never met "Shirley" so my guess is that neither woman actually was the original author of this recipe. I'm sure you'll enjoy these bars much more knowing all of that!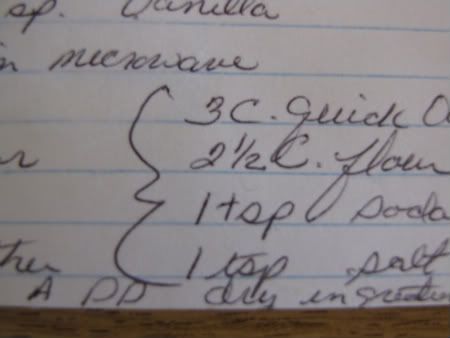 Fudge Nut Bars
Mix together-
1 cup- Butter
2 cups- Brown Sugar
2 Eggs
Add these dry ingredients (I mix the dry ingredients separately before adding them to the "wet" ingredients):
3 cups- Quick Oats
2 1/2 cups- Flour
1 tsp- Soda
1 tsp- Salt
In a separate bowl melt these ingredients together for the fudge and set aside:
I pkg of Milk Chocolate Chips
1 can Sweetened Condensed Milk
3 Tbl- Butter
2 tsp- Vanilla
Press 2/3 of the cookie mixture into a greased 10×15 pan. Spread fudge/chocolate over the top. Spoon the rest of the cookie mixture over the top of that in spoonfuls. Bake at 350 for 20 minutes.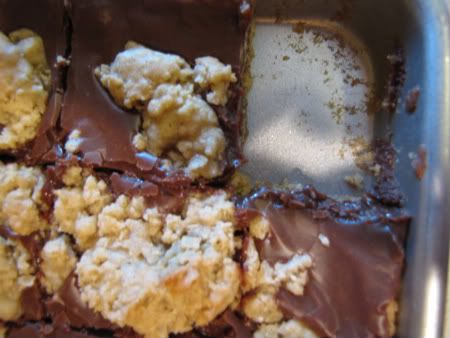 Additional hints- I cut mine into 35 pieces that makes these about 260 calories each. Yikes! They could easily be cut smaller than that. Also, make these on a Sunday night or early in the week so you can send most of them with your husband to work.