Once upon a time. . .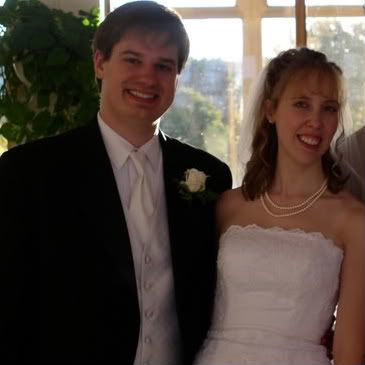 That's my handsome husband, Nathan, and I'm Amy. We got married in October of 2003. We added Ethan in April of 2005 and became a family of 3.
He was 6 weeks early and had a several week stay in the hospital, but he's perfectly healthy. That wasn't enough fun. We decided to add to our family again. Audrey was born 17 months after Ethan in September of 2006.
2 years later we decided that maybe we weren't done. Isaac joined our family in June of 2010.
And then we decided that enough was enough and that's the end of babies for us.
We're all a bit bigger (even me!) now. Ethan is almost 5, Audrey is 3 1/2 and Isaac will be 1 in June. I'm an at-home mom and most days I really like it. Some days (when naps aren't happening like I would like them to) I miss my desk job. We live in a small town west of Minneapolis, MN. I'm the main author of our blog and my main purpose is to document our lives and write about what I'm learning about being a wife, mom and child of God. I love to read, write, run, bake, and scrapbook. I'm learning to be more present and intentional in my parenting. I have no aspirations to be a famous blogger, but we welcome visits and comments from everyone and love to use this as a way to connect with old and new friends.
Christmas 2009 (not a perfect photo, but you try it with 3 little ones!)
Some Favorite Posts
Motherhood Expectations and Reality